Our college believes in the holistic development of students, not just academically, but also socially responsible citizens. With this vision in mind, we organize various extension activities that aim to serve the community and promote sustainable development.
Blood Donation: One of the significant extension activities we organize is blood donation camps. We conduct these camps regularly, and our students and staff participate actively. We believe that donating blood is a noble cause and can help save someone's life. We encourage all our students to donate blood and spread awareness about its importance.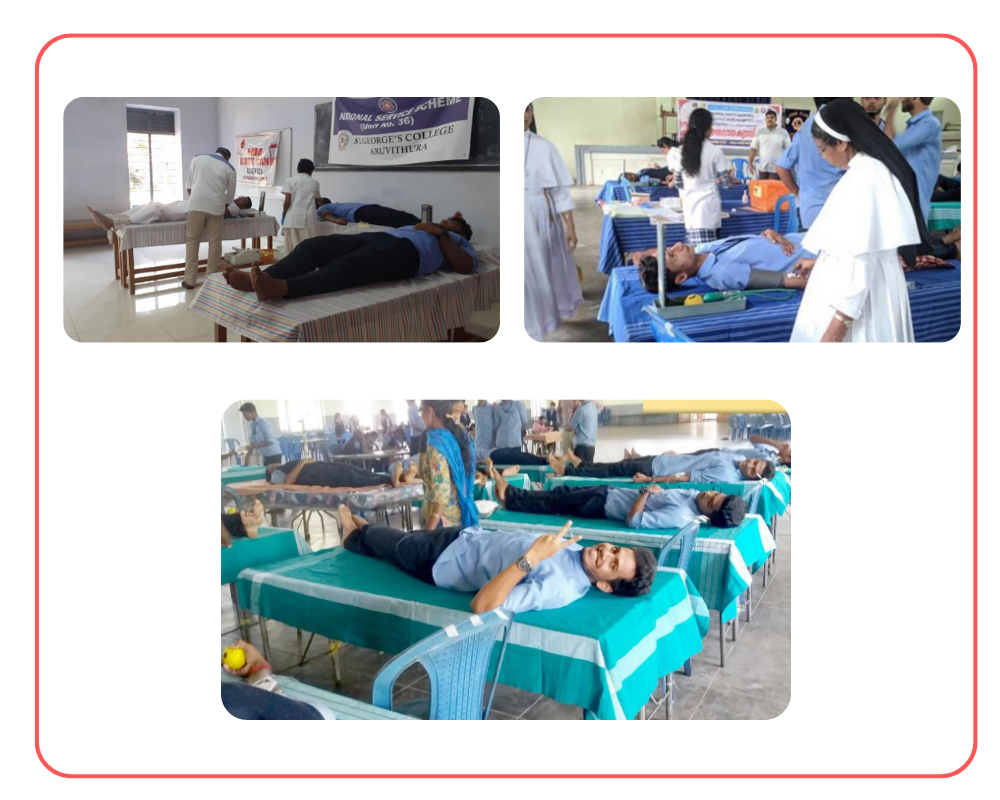 Blood Donation
Energy Conservation Measures: As responsible citizens, we need to make efforts to conserve energy and reduce our carbon footprint. In this regard, we have taken several energy conservation measures in our college. We have installed solar panels to generate electricity, which helps us reduce our dependence on conventional power sources. We also encourage our students to use energy-efficient appliances and to adopt practices like turning off lights and fans when not in use.
Anti-Drug Campaigns: Drug addiction is a growing concern in society, and we must take measures to prevent its spread. We conduct various anti-drug campaigns in our college to create awareness about the dangers of drug abuse. Our campaigns include talks, skits, and rallies that educate our students about the harmful effects of drug abuse and the importance of leading a healthy life.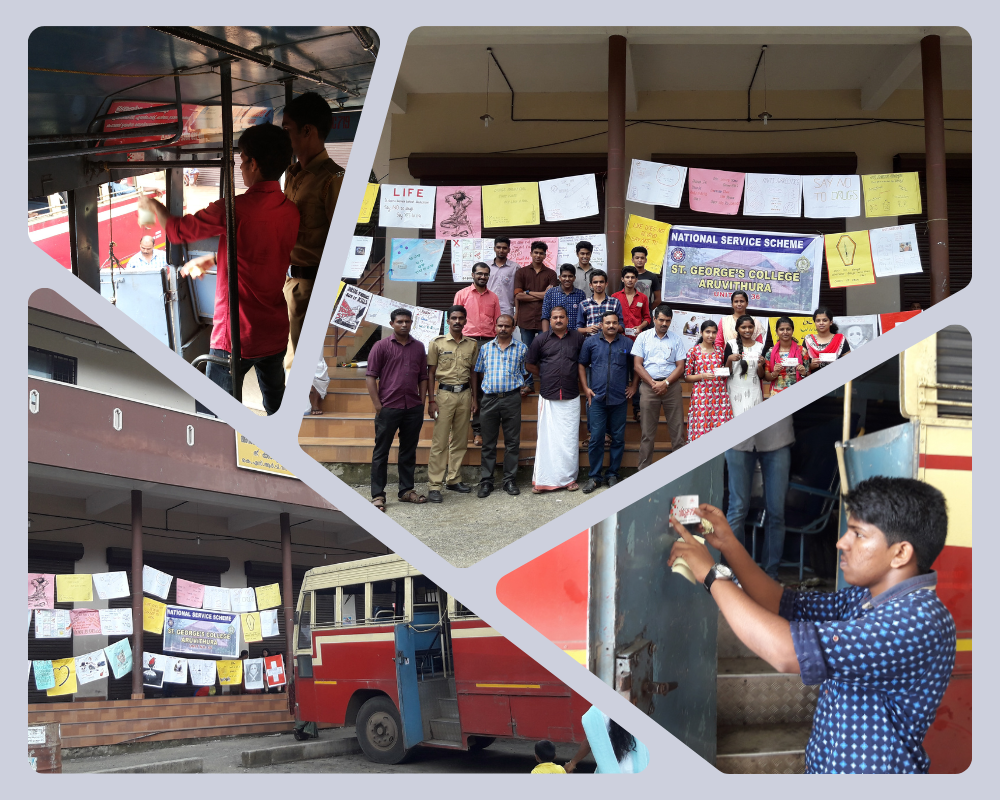 Anti Drug Campaign
Activities by NSS: Our college has an active National Service Scheme (NSS) unit that organizes various extension activities. We conduct awareness campaigns on various social issues like health, hygiene, sanitation, and gender equality. We also undertake initiatives like tree plantation drives, clean-up drives, and community development projects. Our NSS unit encourages students to participate in these activities and contribute to the welfare of the community.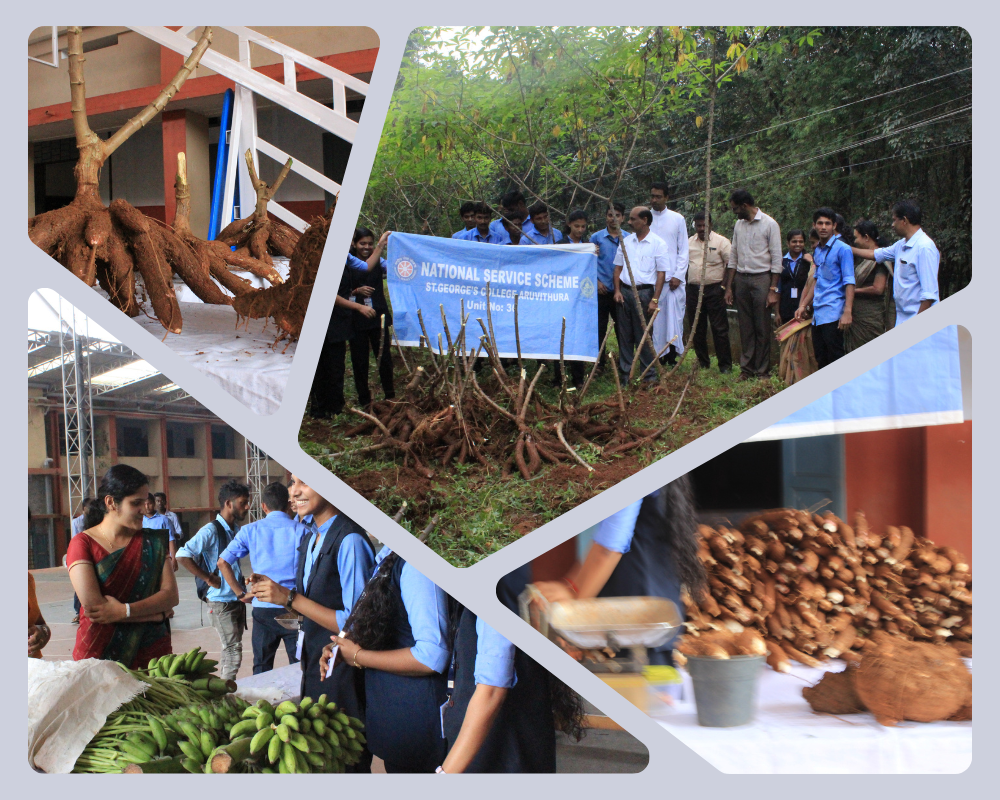 Organic Farming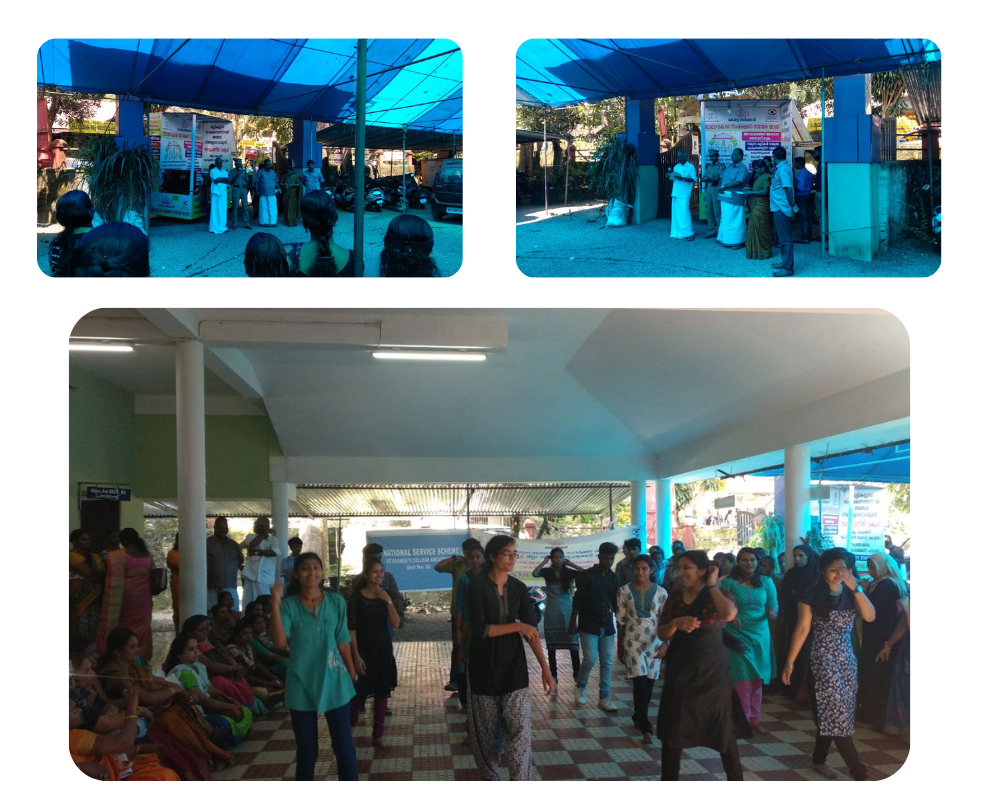 Childrens Rights Flashmob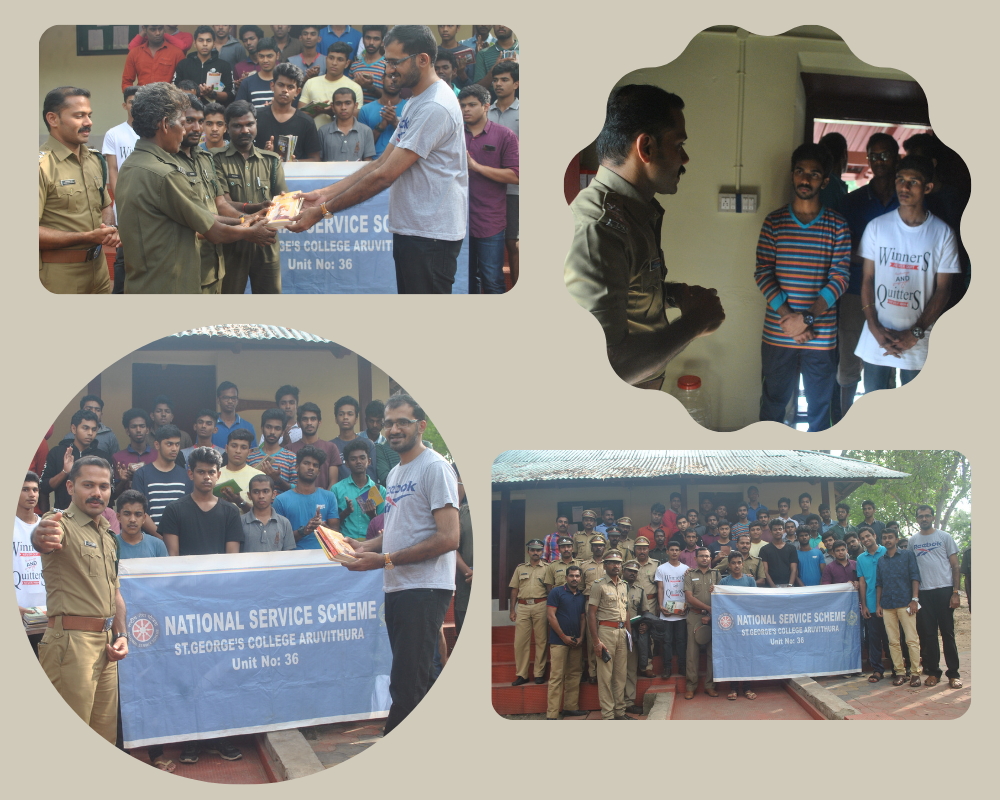 Tribal Library Book Donation
Extension Activities 2017-2022
| | | | | | |
| --- | --- | --- | --- | --- | --- |
| Sl. No. | Name of the activity | Organising unit | Name of the scheme | Year of the activity | Weblink |
| 1 | Food Adulteration Awareness to the General Public | National Service Scheme, Dhaksha, Women's Cell | Social Responsibility | 2017-18 | https://storage.sgcaruvithura.ac.in/dvv/cr3/3_4_3/documents/3_4_3_201718_1.pdf |
| 2 | Anti Narcotic Awareness Programme | National Service Scheme | Awareness Programme | 2017-18 | https://storage.sgcaruvithura.ac.in/dvv/cr3/3_4_3/documents/3_4_3_201718_2.pdf |
| 3 | Blood Donation Camp-1 | National Service Scheme | Blood Donation | 2017-18 | https://storage.sgcaruvithura.ac.in/dvv/cr3/3_4_3/documents/3_4_3_201718_3.pdf |
| 4 | Blood Donation Camp-2 | National Service Scheme | Blood Donation | 2017-18 | https://storage.sgcaruvithura.ac.in/dvv/cr3/3_4_3/documents/3_4_3_201718_4.pdf |
| 5 | Training in Cake Making | National Service Scheme | Skill Development Programme | 2017-18 | https://storage.sgcaruvithura.ac.in/dvv/cr3/3_4_3/documents/3_4_3_201718_5.pdf |
| 6 | Uplifting and Motivating the Rural School Children | National Service Scheme | Social Responsibility | 2017-18 | https://storage.sgcaruvithura.ac.in/dvv/cr3/3_4_3/documents/3_4_3_201718_6.pdf |
| 7 | Knitting and Crochet Training for Empowering the Weaker Section in the Society | National Service Scheme | Skill Development Programme | 2017-18 | https://storage.sgcaruvithura.ac.in/dvv/cr3/3_4_3/documents/3_4_3_201718_7.pdf |
| 8 | Training in Dish Wash Making | National Service Scheme | Skill Development Programme | 2017-18 | https://storage.sgcaruvithura.ac.in/dvv/cr3/3_4_3/documents/3_4_3_201718_8.pdf |
| 9 | Cleaning the Roads and Planting Trees | National Service Scheme | Social Responsibility | 2017-18 | https://storage.sgcaruvithura.ac.in/dvv/cr3/3_4_3/documents/3_4_3_201718_9.pdf |
| 10 | Cleaning Programme in Continuation with the Swacchta Pakhwada | National Service Scheme | Social Responsibility | 2017-18 | https://storage.sgcaruvithura.ac.in/dvv/cr3/3_4_3/documents/3_4_3_201718_10.pdf |
| 11 | Jaivapeedika, A Shop for Organic Products made by the local community | National Service Scheme | Social Responsibility | 2017-18 | https://storage.sgcaruvithura.ac.in/dvv/cr3/3_4_3/documents/3_4_3_201718_11.pdf |
| 12 | Meenachil River Rejuvenation Campaign | National Service Scheme | Environment preservation | 2017-18 | https://storage.sgcaruvithura.ac.in/dvv/cr3/3_4_3/documents/3_4_3_201718_12.pdf |
| 13 | Cleaning of KSRTC Bus Stand in Association with Swacch Bharath Mission | National Service Scheme | Being part of the government project, Swacch Bharath Mission | 2017-18 | https://storage.sgcaruvithura.ac.in/dvv/cr3/3_4_3/documents/3_4_3_201718_13.pdf |
| 14 | NCC-Swaacch Bharath Activities | National Cadet Corps | Cleanliness | 2017-18 | https://storage.sgcaruvithura.ac.in/dvv/cr3/3_4_3/documents/3_4_3_201718_14.pdf |
| 15 | Promotion of Organic Farming | National Service Scheme | Social Responsibility | 2017-18 | https://storage.sgcaruvithura.ac.in/dvv/cr3/3_4_3/documents/3_4_3_201718_15.pdf |
| 16 | Orthopedic Medical Camp | National Service Scheme | Assisting the Sick and the old | 2017-18 | https://storage.sgcaruvithura.ac.in/dvv/cr3/3_4_3/documents/3_4_3_201718_16.pdf |
| 17 | NCC-Tree plantation | National Cadet Corps | Environment preservation | 2017-18 | https://storage.sgcaruvithura.ac.in/dvv/cr3/3_4_3/documents/3_4_3_201718_17.pdf |
| 18 | Health Awareness Rally | National Service Scheme | Social Responsibility | 2017-18 | https://storage.sgcaruvithura.ac.in/dvv/cr3/3_4_3/documents/3_4_3_201718_18.pdf |
| 19 | Palliative Care Training for assisting the Sick and old age people | National Service Scheme | Assisting the Sick and the old | 2017-18 | https://storage.sgcaruvithura.ac.in/dvv/cr3/3_4_3/documents/3_4_3_201718_19.pdf |
| 20 | Training in Stitching | National Service Scheme | Skill Development Programme | 2017-18 | https://storage.sgcaruvithura.ac.in/dvv/cr3/3_4_3/documents/3_4_3_201718_20.pdf |
| 21 | Wiping out the Mosquitoes and the Eradication of Dengue | National Service Scheme | Social Responsibility | 2017-18 | https://storage.sgcaruvithura.ac.in/dvv/cr3/3_4_3/documents/3_4_3_201718_21.pdf |
| 22 | War on Drugs, An Anti Narcotics Awareness Programme | National Service Scheme | Awareness Programme | 2017-18 | https://storage.sgcaruvithura.ac.in/dvv/cr3/3_4_3/documents/3_4_3_201718_22.pdf |
| 23 | Participation in the Family Health Centre Initiation | National Service Scheme | Social Responsibility | 2018-19 | https://storage.sgcaruvithura.ac.in/dvv/cr3/3_4_3/documents/3_4_3_201819_1.pdf |
| 24 | Collection of Materials to the Flood Relief Camp | National Service Scheme | Flood Relief | 2018-19 | https://storage.sgcaruvithura.ac.in/dvv/cr3/3_4_3/documents/3_4_3_201819_2.pdf |
| 25 | House Construction for a widow | National Service Scheme | Social Responsibility | 2018-19 | https://storage.sgcaruvithura.ac.in/dvv/cr3/3_4_3/documents/3_4_3_201819_3.pdf |
| 26 | Familiarizing Scientific Methods in Cultivation | National Service Scheme | Agricultural Awareness | 2018-19 | https://storage.sgcaruvithura.ac.in/dvv/cr3/3_4_3/documents/3_4_3_201819_4.pdf |
| 27 | Anti Drug Awareness Rally | National Cadet Corps | Awareness against Narcotics | 2018-19 | https://storage.sgcaruvithura.ac.in/dvv/cr3/3_4_3/documents/3_4_3_201819_5.pdf |
| 28 | Blood Donation | National Service Scheme | Blood Donation | 2018-19 | https://storage.sgcaruvithura.ac.in/dvv/cr3/3_4_3/documents/3_4_3_201819_6.pdf |
| 29 | Training in Stitching | National Service Scheme | Skill Development Programme | 2018-19 | https://storage.sgcaruvithura.ac.in/dvv/cr3/3_4_3/documents/3_4_3_201819_7.pdf |
| 30 | Meenachilar Punarjani- Campaign for Protecting the River | National Service Scheme | River Protection | 2018-19 | https://storage.sgcaruvithura.ac.in/dvv/cr3/3_4_3/documents/3_4_3_201819_8.pdf |
| 31 | Cleaning Drive | National Service Scheme | Social Responsibility | 2018-19 | https://storage.sgcaruvithura.ac.in/dvv/cr3/3_4_3/documents/3_4_3_201819_9.pdf |
| 32 | Entertaining Children in a Rural School | National Service Scheme | Social Responsibility | 2018-19 | https://storage.sgcaruvithura.ac.in/dvv/cr3/3_4_3/documents/3_4_3_201819_10.pdf |
| 33 | Cleaning Activities in Connection with Sukrutham 2018, Seven Day Special Camp | National Service Scheme | Special Camp | 2018-19 | https://storage.sgcaruvithura.ac.in/dvv/cr3/3_4_3/documents/3_4_3_201819_11.pdf |
| 34 | Unnat Bharat Abhiyan Survey to Know the Situation in the Villages | National Service Scheme | Participation in a National Project | 2018-19 | https://storage.sgcaruvithura.ac.in/dvv/cr3/3_4_3/documents/3_4_3_201819_12.pdf |
| 35 | Flashmob Against Narcotics at KSRTC Bus Station | National Service Scheme | Social Responsibility | 2018-19 | https://storage.sgcaruvithura.ac.in/dvv/cr3/3_4_3/documents/3_4_3_201819_13.pdf |
| 36 | Magic Show on HIV Awareness | National Service Scheme | Awareness of Diseases | 2018-19 | https://storage.sgcaruvithura.ac.in/dvv/cr3/3_4_3/documents/3_4_3_201819_14.pdf |
| 37 | Swacch Bharat Abhyan | National Cadet Corps | Central Program | 2018-19 | https://storage.sgcaruvithura.ac.in/dvv/cr3/3_4_3/documents/3_4_3_201819_15.pdf |
| 38 | Samaksham, A Movie Release at the College for the Community | National Service Scheme | Sensitizing students regarding the Possibilities of Media | 2018-19 | https://storage.sgcaruvithura.ac.in/dvv/cr3/3_4_3/documents/3_4_3_201819_17.pdf |
| 39 | Seminar on Substance Abuse | National Service Scheme | Anti-Narcotics Awareness | 2018-19 | https://storage.sgcaruvithura.ac.in/dvv/cr3/3_4_3/documents/3_4_3_201819_20.pdf |
| 40 | Blood Donation Camp | National Service Scheme | Blood Donation | 2019-20 | https://storage.sgcaruvithura.ac.in/dvv/cr3/3_4_3/documents/3_4_3_201920_1.pdf |
| 41 | NCC-Population Awareness Rally | NCC | Population Awareness | 2019-20 | https://storage.sgcaruvithura.ac.in/dvv/cr3/3_4_3/documents/3_4_3_201920_2.pdf |
| 42 | Flood relief collection | National Service Scheme | Flood Relief | 2019-20 | https://storage.sgcaruvithura.ac.in/dvv/cr3/3_4_3/documents/3_4_3_201920_3.pdf |
| 43 | Student Solar Ambassador Workshop | National Service Scheme | Environment preservation and Self Sufficiency | 2019-20 | https://storage.sgcaruvithura.ac.in/dvv/cr3/3_4_3/documents/3_4_3_201920_4.pdf |
| 44 | House Construction Work | National Service Scheme | Social Responsibility | 2019-20 | https://storage.sgcaruvithura.ac.in/dvv/cr3/3_4_3/documents/3_4_3_201920_5.pdf |
| 45 | Jeevani(Cultivation in the Polyhouse) | National Service Scheme | Modern Cultivation Methods | 2019-20 | https://storage.sgcaruvithura.ac.in/dvv/cr3/3_4_3/documents/3_4_3_201920_6.pdf |
| 46 | Kavya Prakruthi and River Conservation | National Service Scheme | Instilling the Capacity of Poetic Sensibility | 2019-20 | https://storage.sgcaruvithura.ac.in/dvv/cr3/3_4_3/documents/3_4_3_201920_7.pdf |
| 47 | Laying the Foundation of a House | National Service Scheme | Social Responsibility | 2019-20 | https://storage.sgcaruvithura.ac.in/dvv/cr3/3_4_3/documents/3_4_3_201920_8.pdf |
| 48 | NCC-Swachhata Pakhwada | NCC | Central Programme | 2019-20 | https://storage.sgcaruvithura.ac.in/dvv/cr3/3_4_3/documents/3_4_3_201920_9.pdf |
| 49 | Participation in the Republic Day Parade | National Service Scheme | National Integrity | 2019-20 | https://storage.sgcaruvithura.ac.in/dvv/cr3/3_4_3/documents/3_4_3_201920_10.pdf |
| 50 | NCC-Anti-Drug Awareness Campaign | NCC | Anti-Narcotics Awareness | 2019-20 | https://storage.sgcaruvithura.ac.in/dvv/cr3/3_4_3/documents/3_4_3_201920_11.pdf |
| 51 | Various Activities in the Community in connection with Seven Day Camp-Suvarnam 2019 | National Service Scheme | Special Camp | 2019-20 | https://storage.sgcaruvithura.ac.in/dvv/cr3/3_4_3/documents/3_4_3_201920_12.pdf |
| 52 | Street play against addiction to Drugs | National Service Scheme and Women Cell | Anti-Narcotics Awareness | 2019-20 | https://storage.sgcaruvithura.ac.in/dvv/cr3/3_4_3/documents/3_4_3_201920_13.pdf |
| 53 | NCC-Traffic Control Programme | NCC | Public Service | 2019-20 | https://storage.sgcaruvithura.ac.in/dvv/cr3/3_4_3/documents/3_4_3_201920_14.pdf |
| 54 | NCC Tree plantation Programme | National Cadet Corps | Environment preservation | 2020-21 | https://storage.sgcaruvithura.ac.in/dvv/cr3/3_4_3/documents/3_4_3_202021_1.pdf |
| 55 | Popularising Tree Plantation | National Service Scheme | Commemoration of Days/Events | 2020-21 | https://storage.sgcaruvithura.ac.in/dvv/cr3/3_4_3/documents/3_4_3_202021_2.pdf |
| 56 | Plogging Run to Promote cleanliness | National Service Scheme | Environment preservation | 2020-21 | https://storage.sgcaruvithura.ac.in/dvv/cr3/3_4_3/documents/3_4_3_202021_3.pdf |
| 57 | SVEEP for Promoting Franchise among the Voters in Poonjar Legislative Constituency | National Service Scheme | Electoral Literacy | 2020-21 | https://storage.sgcaruvithura.ac.in/dvv/cr3/3_4_3/documents/3_4_3_202021_4.pdf |
| 58 | NCC-Instilling Patriotism among People by observing Kargil Victory | National Cadet Corps | Instilling Patriotism | 2020-21 | https://storage.sgcaruvithura.ac.in/dvv/cr3/3_4_3/documents/3_4_3_202021_5.pdf |
| 59 | Webinar on Women Empowerment | National Service Scheme | Women Empowerment | 2020-21 | https://storage.sgcaruvithura.ac.in/dvv/cr3/3_4_3/documents/3_4_3_202021_6.pdf |
| 60 | Fit India Campaign | National Cadet Corps | Participating in the Central Project | 2020-21 | https://storage.sgcaruvithura.ac.in/dvv/cr3/3_4_3/documents/3_4_3_202021_7.pdf |
| 61 | Food Adulteration awareness Programme | National Service Scheme and Dhaksha, Women's Cell | Awareness on Adulterated Food | 2020-21 | https://storage.sgcaruvithura.ac.in/dvv/cr3/3_4_3/documents/3_4_3_202021_8.pdf |
| 62 | Anemia Eradication Campaign in the local community | National Service Scheme | Health Awareness | 2021-22 | https://storage.sgcaruvithura.ac.in/dvv/cr3/3_4_3/documents/3_4_3_202122_1.pdf |
| 63 | Anti-Dowry Rally | National Service Scheme, NCC, Women Cell | Gender Equality | 2021-22 | https://storage.sgcaruvithura.ac.in/dvv/cr3/3_4_3/documents/3_4_3_202122_2.pdf |
| 64 | Oru Chiri Oru Pothi-Meals Distribution to the poor and the needy | National Service Scheme | Social Responsibility | 2021-22 | https://storage.sgcaruvithura.ac.in/dvv/cr3/3_4_3/documents/3_4_3_202122_3.pdf |
| 65 | Cancer Prevention and Healthy Lifestyle | National Service Scheme | Health Awareness | 2021-22 | https://storage.sgcaruvithura.ac.in/dvv/cr3/3_4_3/documents/3_4_3_202122_4.pdf |
| 66 | Anti Drug Awareness Campaign | National Service Scheme | Anti-Narcotics Awareness | 2021-22 | https://storage.sgcaruvithura.ac.in/dvv/cr3/3_4_3/documents/3_4_3_202122_5.pdf |
| 67 | Drops of Life-Blood Donation | National Service Scheme | Blood Donation | 2021-22 | https://storage.sgcaruvithura.ac.in/dvv/cr3/3_4_3/documents/3_4_3_202122_6.pdf |
| 68 | Webinar on My Period, My Pride | National Service Scheme and Women's Cell | Awareness on Menstrual Hygiene | 2021-22 | https://storage.sgcaruvithura.ac.in/dvv/cr3/3_4_3/documents/3_4_3_202122_7.pdf |
| 69 | Gender Awarenes Training | National Service Scheme | Gender Awareness | 2021-22 | https://storage.sgcaruvithura.ac.in/dvv/cr3/3_4_3/documents/3_4_3_202122_8.pdf |
| 70 | Blood Donation 1 | National Cadet Corps | Blood Donation | 2021-22 | https://storage.sgcaruvithura.ac.in/dvv/cr3/3_4_3/documents/3_4_3_202122_9.pdf |
| 71 | Koottickal Flood Relief | National Service Scheme | Flood Relief | 2021-22 | https://storage.sgcaruvithura.ac.in/dvv/cr3/3_4_3/documents/3_4_3_202122_10.pdf |
| 72 | River Protection Rally | National Service Scheme | River Protection | 2021-22 | https://storage.sgcaruvithura.ac.in/dvv/cr3/3_4_3/documents/3_4_3_202122_11.pdf |
| 73 | Swachh Survekshan Grameen 2021 Survey | National Service Scheme | Participation in a National Project | 2021-22 | https://storage.sgcaruvithura.ac.in/dvv/cr3/3_4_3/documents/3_4_3_202122_12.pdf |
| 74 | Vidhyarthikalude Kaithangu at Koottickal | Physics Department | Flood Relief | 2021-22 | https://storage.sgcaruvithura.ac.in/dvv/cr3/3_4_3/documents/3_4_3_202122_13.pdf |
| 75 | Divas in Defence: Self Defence classes for Girls | National Service Scheme and Dhaksha, Women's Cell | Women Empowerment | 2021-22 | https://storage.sgcaruvithura.ac.in/dvv/cr3/3_4_3/documents/3_4_3_202122_19.pdf |
| 76 | Locks of Love: Hair Donation for Cancer patients | National Service Scheme and Women's Cell | Charity | 2021-22 | https://storage.sgcaruvithura.ac.in/dvv/cr3/3_4_3/documents/3_4_3_202122_20.pdf |
| 77 | Blood donation camp 2 | National Service Scheme | Blood Donation | 2021-22 | https://storage.sgcaruvithura.ac.in/dvv/cr3/3_4_3/documents/3_4_3_202223_2.pdf |
| 78 | Distribution of essential items in flood affected areas | National Service Scheme | Flood Relief | 2021-22 | https://storage.sgcaruvithura.ac.in/dvv/cr3/3_4_3/documents/3_4_3_202223_3.pdf |
| 79 | Instilling Nationalism and Patriotism among People through Freedom Run | National Service Scheme | Instilling Nationalism and patriotism | 2021-22 | https://storage.sgcaruvithura.ac.in/dvv/cr3/3_4_3/documents/3_4_3_202223_4.pdf |
| 80 | Harithabhoomika-Sale of bioorganic products made by the local community | National Service Scheme | Social Responsibility | 2021-22 | https://storage.sgcaruvithura.ac.in/dvv/cr3/3_4_3/documents/3_4_3_202223_6.pdf |
| 81 | Harithamithram Smart Garbage App Enrollment and Ward Level Survey | National Service Scheme | Waste Management | 2021-22 | https://storage.sgcaruvithura.ac.in/dvv/cr3/3_4_3/documents/3_4_3_202223_7.pdf |
| 82 | Project Third Eye, Vigilant Reporting on Society and Environment | National Service Scheme | Social Responsibility | 2021-22 | https://storage.sgcaruvithura.ac.in/dvv/cr3/3_4_3/documents/3_4_3_202223_9.pdf |